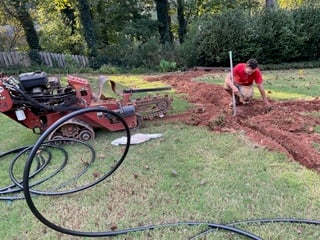 Sewer lines need to be installed in a specific method to ensure they can serve the community for years without any issues. Factors that companies will take into account when completing this process includes the material of the pipes, the location of installation, and different challenges like structures, obstructions, etc. All installations must fall within the regulations and codes of the city.
Elevations
The first thing that needs to be determined is the elevation or depth of the pipes. Residential pipes start at the home's main drain and will exit the home's foundation and slope down a hill before connecting with the main pipe branch. The elevation for these is calculated and measured using a laser level, GPS, or surveying equipment.
Slope
The pipe's elevation and length are used to make calculations for the slope. The slope is the amount of drop the pipe will have as it travels from one point to the next and goes by recommendations and requirements of local code. This needs to be exactly right because something that is too steep will lead to clogs and something that is too shallow won't allow for fast enough drainage.
Digging the Trench
Once the correct specifications for depth and slope are determined, the digging can begin. Trenches must be created with as little disturbance to the soil as possible and it's best to have these as narrow as possible. The bottom of the trench has to be smooth and compact and should follow the slope that the pipe will take from the home to the city branch. Bedding materials are also used to help support the pipe. Sand is usually the most common and preferred material for this.
Pipe Installs
Pipes can be laid once the trenches are properly prepared. This is an important step because how well it is installed determines its chances of leaking. The sewer pipe will be placed one at a time, usually starting from the lower elevation side and working up.
Filling Trenches
Once pipes are installed, they must be put through an inspection to make sure everything has been done correctly. When they pass the final inspection, all that is left is backfilling the trenches to bury the pipes. This usually involves covering the pipes with a layer of sand to protect it and fill in any voids. Soil is then filled and compacted in layers to minimize settling in the future. A precaution that many people will take includes burying the warning tape over the first layer or two of the soil so that if future crews do come digging, they know there are pipes below. This helps prevent any accidental damage.
We offer complete sewer and water line repair, installation, and replacement services. Call
Southern Phoenix Services at 770-455-2700 today!