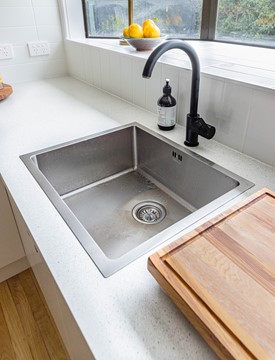 You are washing your dishes like you do every day when you look down and notice the water has stopped draining. A clogged sink is never fun to deal with and causes a bump in our day that can throw our moods off. It is one of the most common plumbing problems that people handle and reaching for the chemical fixes aren't always the best idea. Using chemical drain cleaners can actually damage our system more than it helps even if it seems like it clears the clog initially. Here are some other repair methods you can try instead to protect your plumbing system.
Boiling Water
Boiling water is a useful solution that can help loosen any residue, debris, or grease that may be caught in the drain. It is easily accessible and a great strategy to start with first. You can boil about half a gallon of water and pour it down the sink to try to dislodge anything that is in there. Check your pipes before you dump the water down. If your sink uses PVC pipes you will want to skip this method. Hot water can cause PVC joints to loosen or damage the plastic.
Check Garbage Disposal
Sometimes the garbage disposal is the culprit when it comes to clogs. If it is overheated or not functioning properly, it may be preventing food and other debris from making its way down the drain. You can try resetting the disposal by flipping or pressing the reset on the side of the disposal. If it hums, this means the unit is experiencing issues. You can try to check it out yourself by unplugging the power cord and using tools to unclog it. Otherwise, if you aren't sure how to tackle it, call a professional to come help you instead.
Plunger
Plungers were made for unclogging, so it never hurts to give this method a try too. To properly plunge the sink, start by filling it with hot water until the drain is completely submerged. This helps to create a tight seal. Position the plunger over the sink and plunge away. Step back after a few tries to see if you notice the water draining. You can repeat the process a few times.
Baking Soda and Vinegar
Rather than using chemicals, baking soda and vinegar is a natural alternative to break down clogs. You'll want to get rid of the water in the sink to start. Then pour equal amounts of baking soda and vinegar in that order down the sink. Cover or seal the drain the best you can and run hot water to help it out.


Plumber's Snake
It can take a snake to handle some really tough jobs. This tool helps you reach far down the drain and dislodge anything that it comes across. You can rent one or make a DIY one with a wire coat hanger. Feed it down the drain a little bit at a time and when you feel something, hook it and pull it up through the drain.
Dealing with clogs or needing some plumbing inspected? Call
Southern Phoenix Services at 770-455-2700 today! We service Marietta, Alpharetta, Roswell, Georgia and the surrounding areas.